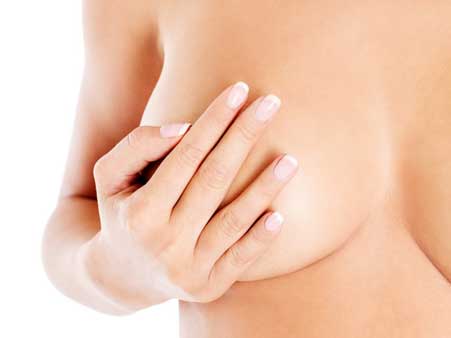 Breast augmentation is performed using intravenous sedation combined with local anesthesia while patients remain sleep during the procedure. Based on the plan developed during your consultation, Dr. Ricardo Vega will place the implants either above or below the pectoral muscle. Incisions are most commonly created either around the areolas (periareolar), beneath the breasts at the crease (inframammary) and finally are closed with intradermal sutures. Silicone cohesive gel implants will be used, sometimes referred to by patients as "gummy bear" implants.
CAN BREAST AUGMENTATION BE COMBINED WITH OTHER PROCEDURES?
Breast augmentation can achieve dramatic and beautiful results on its own, as well as in conjunction with other cosmetic surgery or noninvasive procedures. We sometimes recommend combining breast augmentation with other procedures, such as a breast lift, for more satisfying results.
The patient can return to work within a few days. She should avoid any physical contact with her breasts (excluding her bra) for approximately three to four weeks. Scars should fade and flatten anywhere from three months to two years after surgery, depending upon how the individual patient heals. A surgical garment (bra) is recommended for better pos op results.
The outcome varies from patient to patient. However the overall effect is enhancement of breast size for improved appearance.

SEE SOME OF OUR SUCCESS STORIES
TESTIMONIALS
What clients have to say about us.
PHOTO GALLERY
View the before and after of some of our happy clients
Dr. Ricardo Vega is an international renowned Board Certified Plastic Surgeon with private practice in Tijuana, Mexico for over 20 years. He has spent a lifetime getting the expertise, education, training and practice with over thousands of procedures throughout his career… SEE MORE
WHAT BREAST AUGMENTATION PATIENTS SAY ABOUT DR. RICARDO VEGA
Check our patients verified reviews!
RICARDO VEGA PLASTIC SURGERY
Circuito Bursatil 9043, Suite 306, Piso 3 Edificio The F Tower, Zona Urbana Rio Tijuana, 22010 Tijuana, B.C.