BREAST LIFT SURGERY WITH DR RICARDO VEGA
The breast lift procedure is performed using intravenous sedation combined with local anesthesia while patients remain sleep during the procedure.There are three common incision patterns  and one will be used depending on your needs were a breast implant might be needed to reshape your breast and enhance firmness. After Dr. Ricardo Vega makes the incisions the underlying breast tissue is lifted and reshaped to improve breast contour and firmness.The nipple and areola are repositioned to a natural, more youthful height. If necessary, enlarged areolas are reduced by excising skin at the perimeter and excess breast skin is removed to compensate for a loss of elasticity. After your breasts are reshaped and excess skin is removed, the remaining skin is tightened as the incisions are closed.
BEST CANDIDATE FOR A BREAST LIFT
Breast lift surgery is a highly individualized procedure. You should do it for yourself, not to fulfill someone else's desires or to try to fit any sort of ideal image.
You may be a candidate for breast lift surgery if:
You are physically healthy and maintain a stable weight

You do not smoke




You are bothered by the feeling that your breasts sag or have lost shape and volume

Your breasts have a flatter, elongated shape or are pendulous

When unsupported, your nipples fall below the breast crease




Your nipples and areolas point downward




You have stretched skin and enlarged areolas




One breast is lower than the other




During your breast lift recovery, dressings or bandages will be applied to the incisions after the procedure is completed.You'll need to wear an elastic bandage or support bra to minimize swelling and support your breasts as they heal.
Satisfaction with your new image should continue to grow as you recover from surgery.The final results of your breast lift will appear over the next few months as breast shape and position continue to settle.Incision lines are permanent but will continue to fade over time. The results of your breast lift surgery will be long-lasting.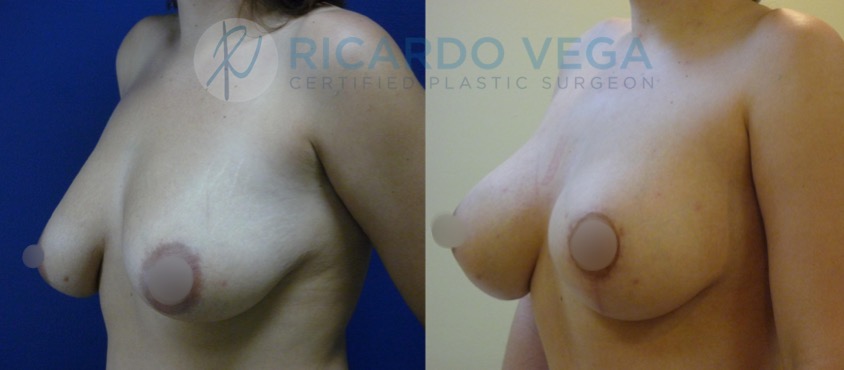 SEE SOME OF OUR SUCCESS STORIES
TESTIMONIALS
What clients have to say about us.
PHOTO GALLERY
View the before and after of some of our happy clients
Dr. Ricardo Vega is an international renowned Board Certified Plastic Surgeon with private practice in Tijuana, Mexico for over 20 years. He has spent a lifetime getting the expertise, education, training and practice with over thousands of procedures throughout his career… SEE MORE
WHAT BREAST LIFT PATIENTS SAY ABOUT DR. RICARDO VEGA
Check our patients verified reviews!

Real Self
"46 Year Old, Benelli Lift Without Implants After 3 Children - Tijuana, MX"
As a woman I know that we have high expectations and we want results with little to no scaring. Dr Vega is a surgical genius. He figures out how to give the expected results. He also has a great bedside manner. I never felt scared about having any procedure done by him.