TUMMY TUCK (ABDOMINOPLASTY)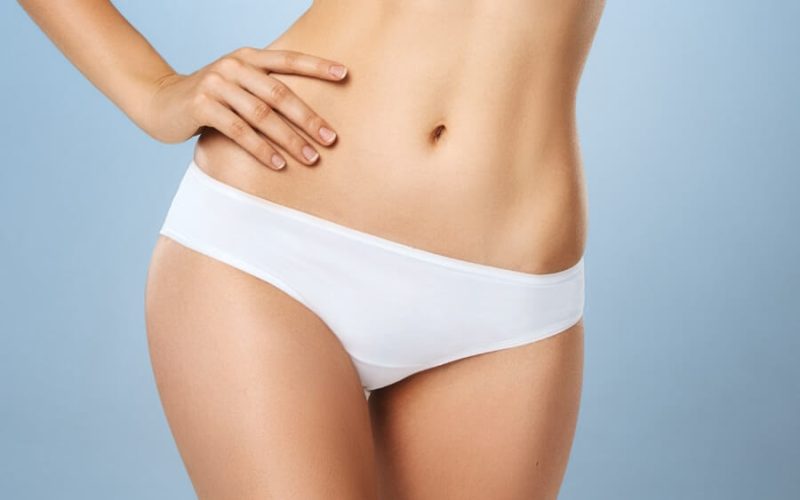 Abdominoplasty is performed using regional anesthesia or epidural combined with sedation. A full tummy tuck requires a horizontally-oriented incision in the area between the pubic hairline and belly button.The shape and length of the incision will be determined by the amount of excess skin. Once the abdominal skin is lifted, the underlying weakened abdominal muscles are repaired. A second incision around the navel may be necessary to remove excess skin in the upper abdomen.The upper abdominal skin is pulled down like a window shade. The excess skin is trimmed and the remaining skin is sutured together. A new opening for the belly button is created. The belly button is popped through to the surface and sutured into position. Sutures, skin adhesives, tapes or clips close the skin incisions and a surgical drain may be inserted under the skin to drain excess fluid from the surgical site.
CANDIDATES FOR TUMMY TUCK
The best candidates for a tummy tuck are in good physical condition with pockets of fat or loose skin that haven't responded well to traditional diet and exercise. This procedure can also benefit older, slightly obese people whose skin has lost some of its elasticity.
Tummy tucks can also be useful for women with stretched skin and muscles from pregnancy. Results from the tummy tuck procedure will likely diminish if women continue to bear children, so we advise patients who plan to become pregnant to consider postponing this procedure until they are done having children.
We also encourage patients who intend to lose a lot of weight to wait before undergoing the procedure, because skin in the abdominal area typically loosens after substantial weight loss.
CUSTOMIZED TREATMENT FOR OPTIMAL COSMETIC RESULTS
We take the time during every preoperative consultation to learn what patients want to achieve from a tummy tuck, both for their bodies and for their self-confidence. By listening to what you have to say and giving you a thorough physical examination, Dr. Ricardo Vega will provide you with a completely customized treatment that takes into account your specific goals, rather than performing a one-size-fits-all procedure.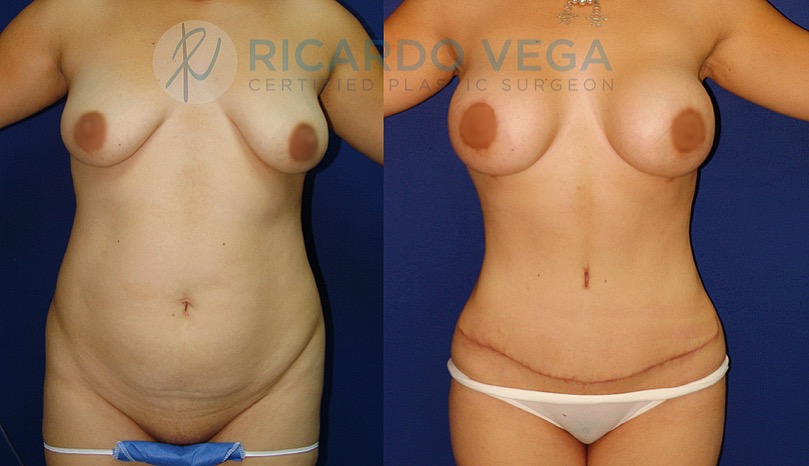 Tummy tucks take approximately two to five hours and are performed under general anesthesia. This procedure may be performed on an inpatient or outpatient basis, depending on the complexity of your surgery and Dr. Vega's recommendation.
Surgery involves two incisions: one from hipbone to hipbone close to the pubic area, and another around the navel. They will separate the skin from the abdominal muscles, which are then pulled together and stitched into place for a firmer abdomen and narrower waist. The skin flap is then stretched down and over the newly tightened muscles, excess skin is removed, and the navel is reattached in a natural position. Lastly, Dr. Vega will close the incisions and apply sterile surgical dressings over the sutured areas.
RECOVERY AFTER TUMMY TUCK
After surgery, compression garments are worn and a temporary tube may be inserted under the skin to drain excess fluid from the surgical site. Recovery time ranges from two weeks to a few months. You should limit strenuous activity for at least six weeks, and may need to take off from work for up to a month. Dr. Ricardo Vega will give you specific instructions for your individual recovery. Following these instructions can help speed up your recovery, and reduce the risk of any post-surgery complications.
Your tummy tuck will result in a flatter, firmer abdominal contour that is more proportionate with your body type and weight.
SEE SOME OF OUR SUCCESS STORIES
TESTIMONIALS
What clients have to say about us.
PHOTO GALLERY
View the before and after of some of our happy clients
Dr. Ricardo Vega is an international renowned Board Certified Plastic Surgeon with private practice in Tijuana, Mexico for over 20 years. He has spent a lifetime getting the expertise, education, training and practice with over thousands of procedures throughout his career… SEE MORE
RICARDO VEGA PLASTIC SURGERY
Circuito Bursatil 9043, Suite 306, Piso 3 Edificio The F Tower, Zona Urbana Rio Tijuana, 22010 Tijuana, B.C.