EYELID SURGERY WITH DR RICARDO VEGA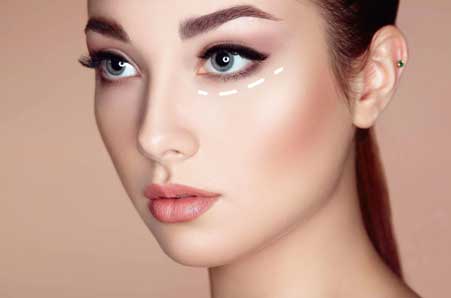 Blepharoplasty, also known as eyelid surgery, is a surgical procedure that improves the appearance of the upper and lower eyelids by tightening muscles and tissue or removing excess fat and skin. This procedure can be performed on men and women alike, and offers a younger, more refreshed look that reflects across the whole face.
Eyelid surgery is now the most popular facial plastic surgery procedure in the United States and Mexico after rhinoplasty. The popularity of this procedure reflects the importance of the eyes in perfecting overall appearance. In fact, two-thirds of adults consider the eyes to be the defining feature of the face. If you are unhappy with the appearance of your eyes, you may want to consider blepharoplasty to improve your look and boost your confidence through a safe procedure with minimal downtime.
WHO IS THE IDEAL CANDIDATE?
The best candidates for blepharoplasty are individuals who are in good overall health and who do not smoke or have any serious eye conditions. If you have loose, sagging skin or puffy bags around your eyes, this procedure can help reduce these unwanted effects and leave the eyes looking young and fresh.
It is important for patients to have realistic expectations before undergoing surgery in order to be satisfied with their results. While this procedure can enhance your appearance and may improve self-confidence, it cannot alter your entire appearance or change the structure of your face.
The patient may begin reading after about two to three days and can expect to return to work at approximately five to ten days. Use of contact lens may be resumed after two weeks (upon re-evaluation by the physician). The patient should not consume alcohol after the surgery. More strenuous activities and alcohol consumption may be resumed after three weeks. Bruising and swelling should be gone after several weeks.
Dr. Ricardo Vega is an international renowned Board Certified Plastic Surgeon with private practice in Tijuana, Mexico for over 20 years. He has spent a lifetime getting the expertise, education, training and practice with over thousands of procedures throughout his career… SEE MORE
WHAT PATIENTS SAY ABOUT DR. RICARDO VEGA
Check our patients verified reviews!

Real Self
"I had a amazing experience"
One of the most talented doctor inTijuana Mexico.he was able to fix the previous problem and made me feel very confident. I search for a good doctor in Mexico for a while. Really believe that price for plastic surgery inUS overpriced and a lot of doctors do not pay detailed attention to clients requests. Dr Vega is exceptional he listened and give you his opinion Worth to travel and wait for him . Very clean and professional environment Really recommend him . Thank you dr Ricardo

Real Self
"Exceptional care"
The care was exceptional, better than in the States. Dr Vega is absolutely devoted to his patients and clearly to his practice. He is the most dedicated doctor Ive ever seen, including my own plastic surgeon brother in N.Y. The recovery time took longer than I expected, but I am 61 yrs old and had alot done-facelift, eyes, and nose. I am happy with the results with one slight minor detail- There is still a horizontal line between my eyes, that I wanted filled so it wouldnt appear. This is why not 5 stars. Everything else looks great. I look much younger. This took at least 20 years off my age (with exception of horizontal line betw eyes)I would highly recommend Dr Vega, at about one third less than the surgeons in Michigan.